Das Chawwerusch Theater — a short outline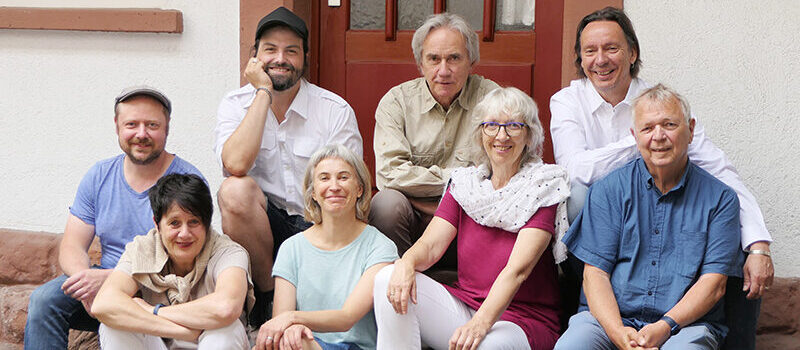 The name Chaw­we­rusch ori­gi­na­ted in the thie­ves' argot, a secret lan­guage that has been spo­ken and used in for­mer times by the tra­vel­ling peo­p­le. Chawrus­se respec­tively cha­we­ru­sche deri­ves from cha­wer (com­ra­de, bud­dy, fri­end, accom­pli­ce, mem­ber of the gang, also see the Hebrew word chaw­wer) and bears the mea­ning of gang. The Pala­ti­ne "Kafru­se" con­ta­ins of the same radi­cal and stands for a gang of cocky kids.
"The pre­mie­re, fre­ne­ti­cal­ly acclai­med by an enthu­si­a­stic audi­ence, did not lea­ve the sligh­test doubt that the thea­ter gen­try ori­gi­na­ted and roo­ted in the Sou­thern Pala­ti­na­te will, yet again this year, set the cul­tu­ral stan­dards far bey­ond this very regi­on." (Sonn­tag aktuell)
"Dazed and stun­ned the audi­ence emer­ges from the end of the sto­ry, wil­ling to fol­low the play for yet a lon­ger time. Back to rea­li­ty rap­tur­ous applau­se erupts, remu­ne­ra­ti­on for an into­xi­ca­ting evening." (Schwet­zin­ger Zeitung)
Chaw­we­rusch is a colorful mélan­ge of thea­ter gen­try (Dani­lo Fio­ri­ti, Felix S. Felix, Miri­am Grimm, Moni­ka Klee­bau­er, Ben Hergl, Tho­mas Kölsch, Wal­ter Menz­law and Ste­phan Wriecz) who mutual­ly deve­lo­ped a uni­que, non-rever­si­ble form of thea­ter work. A nar­ra­ti­on from peo­p­le for peo­p­le, put to the sce­ne in a like­wi­se sophisti­ca­ted as well as enter­tai­ning man­ner: tra­gic — comic — hearty
Con­tent and pro­gram result from the exami­na­ti­on of every day life, poli­tics and socie­ty. The scru­ti­ny is yet cri­ti­cal, howe­ver, always accom­pa­nied by a pinch of salt, so to speak, dra­wing the focus onto the essen­ti­als. Taking a clo­se view to the "Nation's idle talk" and play­ing to the gal­lery, lite­ral­ly into the lime­light, all issues in a very poin­ted and straight-for­ward man­ner, that is what the Chaw­we­rusch way of thea­ter work is all about. In doing so, the sit-com-like, the human-tra­gic and hear­ty aspects are being put into the main focus. Chaw­we­rusch has always tru­ly stuck with their own ide­als of being a free thea­ter and thus repre­sen­ting a venue of self-rea­liza­ti­on and poli­ti­cal actuation.
Sin­ce 1984, the foun­da­ti­on of the thea­ter, inten­si­ve rese­arch is the solid basis for most of the plays: traces are being sear­ched and secu­red, sources stu­di­ed, sto­ries coll­ec­ted and the line is con­stant­ly being drawn up-to-date , socio­po­li­ti­cal issues and human pro­blems. Based on this as well as on ima­gi­na­ry mate­ri­al Chaw­we­rusch crea­tes the plays by free impro­vi­sa­ti­ons and crea­ti­ve wri­ting of the script. Then the artis­tic trans­fer onto the stage takes place. Team­work plays an important role, becau­se a cru­cial part in Chawwerusch's phi­lo­so­phy is the fact that the crea­ti­ve poten­ti­al of the enti­re group can lea­ve its mark on a production.
From Sep­tem­ber until May peo­p­le sur­ge to the venue of the Sou­thern Pala­ti­ne Chaw­we­rusch Thea­ter from the enti­re regi­on ran­ging from Wei­ßen­burg to Mann­heim, from Karls­ru­he up to Kai­sers­lau­tern in order to view the cur­rent pro­duc­tion of the thea­ter com­pa­ny. Sin­ce 1993 Chaw­we­rusch offers regu­lar thea­ter bills of fare in the venue of the thea­ter hall, the village's for­mer ball­room hall.
The Chaw­we­rusch Thea­ter is an inher­ent part of the cul­tu­ral envi­ron­ment of the Pala­ti­na­te . For one this is pro­ven by an inten­si­ve coope­ra­ti­on with peo­p­le from the area inte­res­ted in histo­ry and thea­ter and it is foun­ded in the col­la­bo­ra­ti­on and encoun­ter with other artists, stage direc­tors as well as in co-pro­duc­tions with other thea­ter com­pa­nies. On the other hand, for many years Chaw­we­rusch is invol­ved in the pro­mo­ti­on of the next crea­ti­ve gene­ra­ti­on. Various thea­ter plays have been pro­du­ced tog­e­ther with thea­ter clas­ses of schools and spe­cial thea­ter days have been orga­ni­zed and car­ri­ed out for young people.
The pro­duc­tions are focus­sed on the regio­nal refe­ren­ces and the deal­ing with the various expres­si­on pos­si­bi­li­ties of dialects play an important role. Addi­tio­nal indi­ca­tors with respect to Chaw­we­rusch pro­duc­tions is the use of only few, most­ly simp­le but extre­me­ly altera­ble props, by which sce­ne by sce­ne always new images are being crea­ted and por­tray­ed. For the most part the actors and actres­ses them­sel­ves easi­ly chan­ge the stage envi­ron­ment with a few hand move­ments and who crea­te new rooms and dimen­si­ons espe­ci­al­ly by their per­for­mance. This (ver­sa­ti­li­ty-adap­ta­bi­li­ty-fle­xi­bi­li­ty) also appli­es for the cos­tu­mes. For the most part the music will be indi­vi­du­al­ly com­po­sed for a spe­ci­fic pro­duc­tion and per­for­med and sung live by the actres­ses and actors. Along with move­ments and, of cour­se, lan­guage, music is a cen­tral means of expres­si­on in Chaw­we­rusch staging.
In addi­ti­on to that a lar­ge num­ber of the altog­e­ther 150 pro­duc­tions take place out­side of Herx­heim: every year in the sum­mer the­re is a tour with open-air per­for­man­ces, and in spring­time and autumn as well the Chaw­we­rusch trou­pe pack their bags on a regu­lar basis in order to per­form outwards.
Chaw­we­rusch star­ted out in 1984 with a tem­po­ra­ry migrant thea­ter pro­ject. Back then their paths lead them through the " Forest of Odes " regi­on and the suc­cess was that immense, that the enti­re pro­ject was pro­lon­ged for ano­ther year. Even as ear­ly as 1985 the thea­ter hall at Herx­heim has been ren­ted for rehear­sal pur­po­ses, even though the trou­pe in the begin­ning was still based at Darmstadt.
Tan­gi­ble plans were made for a per­ma­nent thea­ter and last but not least Chaw­we­rusch has "put down roots" in Herxheim.
The mem­bers of the thea­ter com­pa­ny act as wri­ters, stage direc­tors and com­po­sers. Many among­st them com­ple­ted a thea­ter pedago­gi­cal edu­ca­ti­on. Thus Chaw­we­rusch clo­se­ly coope­ra­tes with com­pa­nies of ama­teur actors, orga­ni­zes exten­si­ve pro­jects and takes care on script wri­ting as well as stage directing.
Chaw­we­rusch is a mem­ber of the Lan­des­ver­band pro­fes­sio­nel­ler frei­er Thea­ter in Rhein­land-Pfalz (laprofth) — the Natio­nal Asso­cia­ti­on of Pro­fes­sio­nal Free Thea­ters in the Rhineland-Palatinate.
"And when the Chaw­we­rusch Thea­ter asks once more for your pre­sence next year, and this is alre­a­dy cer­tain, yet again yon­der magic car­pet of ima­gi­na­ti­on will subs­i­de onto the pla­za." (Schwet­zin­ger Zeitung)
Trans­la­ti­on: Michae­la Flick and Phil John­son, thank you!